Make a difference in the life of a child today!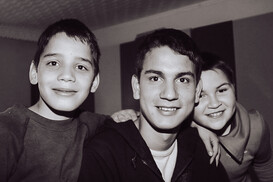 We rely 100% on voluntary donations to fund our programs and the work we do. We thank you for choosing to partner with us to meet the needs of vulnerable children in Romania and South Africa. 
If you choose to give monthly you will be receiving even more information of the real life stories of how your giving is making a difference. 
3 ways you can donate today:
1. Online
FHI (CAIRD) has partnered with CanadaHelps in order to allow secure donations via major credit card. CanadaHelps will issue a charitable donation receipt through a reply e-mail. Donate here.
Send an Interac e-Transfer to info@caird.ca.  Be sure to let us know if you would like to designate your funds and include your contact information so that we can thank you and send you a tax receipt. 
2. Cheque 
You can send cheque donations, payable to Father's House International, Box 4440, Edmonton, AB T6E 4T5. Click here for the downloadable and printable Father's House Donation Form.
3. Automatic Monthly Donation
To arrange for an automatic monthly bank withdrawal please read the Pre-Authorized Payment Authorization Terms and Conditions , print off the Pre-authorized Debit Form and submit it to us along with a VOID cheque. (scan and email to info@caird.ca or mail: Father's House International, PO Box 4440, Edmonton, AB T63 4T5)  
Our newsletters are also available via email. If you would like to receive a copy of our newsletter, subscibe below! All contact information received is used for FHI purposes only and is never shared, sold or otherwise given out to any other person or organization.
Unless specifically requested, all donors making cash, cheque and monthly donations totalling over $10.00 will be mailed charitable donation receipts by the end of February the following calendar year.
Canada Revenue Agency Charitable Registration Number: 88662 6274 RR0001.
What God the Father considers to be pure and genuine religion is this: to take care of orphans and widows in their suffering and to keep oneself from being corrupted by the world. - James 1:27