Direct Child Sponsorship ($45.00 Canadian)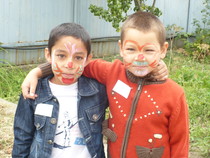 The operation of Father's House is 100% dependent on the support of donations for those wanting to make a difference in the lives of orphaned and needy children. A specific child will be assigned to you, and we encourage you to get to know them through email, letters, cards, gifts and updates. A child sponsorship is $45.00 per month and will support one child for a month. For further information, and the forms needed to begin, please contact us.
Children needing sponsorship:
a five-year-old girl in South Africa needs sponsoring
a ten-month old girl in Romania needs sponsoring
Please note that if there are no children listed above, then all Father's House children are currently sponsored. If you are interested in sponsoring a child, please consider the indirect sponsorship option.  Indirect sponsorship means that you contribute monthly toward the general budget of FHI until a child is available to be assigned to you (please see below).   
Indirect Child Sponsorship ($45.00 Canadian)
As an indirect sponsor you are helping to pay for operational costs not covered by the monthly child sponsorship donations. This includes things like utilities, transportation and special activities. As a monthly indirect sponsor, we will make you aware of the next available opportunity to sponsor a child.